Media
Boy, 16, divides the internet with billowing ballgown, some say he's 'stunning' others say 'vile'
Korben White, 16, made the internet go crazy with the voluminous ballgown he wore to his high school prom while posing in a blazing red skirt and a sequin-speckled tuxedo top that perfectly matched his scarlet-colored hair.
Following his mother Nina Green's viral video of her son getting ready for prom, ardent followers of the woke movement applauded his flowing dress while others played the blame game, claiming it indicates the "failure" of a parent "in encouraging this sort of thing."
Korben White told his mother Nina Green when he was just 12 years old that "he wanted to go to his school prom in a gown."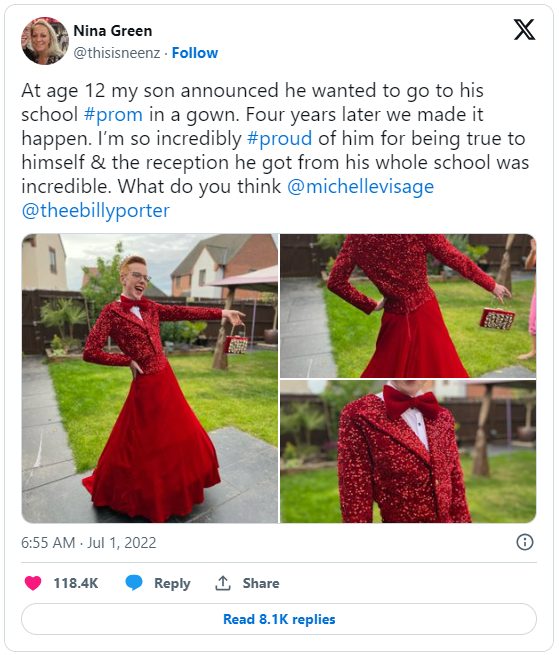 The adolescent, a "sassy" young drag queen who goes under the name Miss Frou Frou, made it happen in 2022, just four years after making his intention known.
Speaking with the BBC, Green explains her son's inspiration. "He wanted to go as himself, while expressing his feminine side–with a tuxedo on the top and a dress at the bottom, very much influenced by [American actor] Billy Porter." She continued, "He wanted to be Korben…but in a dress."
The staff and pupils at Archbishop Sancroft High School in Harleston, Norfolk, cheered when Korben emerged from the car wearing the glittering red suit combined with a white blouse and a huge red bow.
"As soon as he got out of the car, everyone just cheered and I was crying, some of the teachers were crying, because he was being who he wanted to be," the proud mom said of Korben. "Everyone has been very supportive, and his year group has been incredible. If you let your child be who they are then you'll get nothing but the best out of them."
Green, who is the strongest advocate for her kid, reiterated her fervent support with a tweet on July 1.
Paired with a few photos of Korben in the spectacular outfit, Green writes, "At age 12 my son announced he wanted to go to his school prom in a gown. Four years later we made it happen. I'm so incredibly proud of him for being true to himself & the reception he got from his whole school was incredible."
Millions of users shared, commented on, and praised the charming young man in her article, which garnered a lot of traction.
It even reached Michelle Visage, a judge on RuPaul's Drag Race, who said, "You are an amazing beautiful mom and your child is a STAR."
Korben said it was "very surreal" that his mother's tweet captured the attention of Visage.
"To me she is such an icon, a wonderful celebrity and I really admire her," he said.
Green claimed she merely intended to show her son "living his best life," which led other parents to seek her assistance. She had no idea that her gesture of support would "go crazy."
Some users uploaded pictures and stories of their own gender-fluid kids.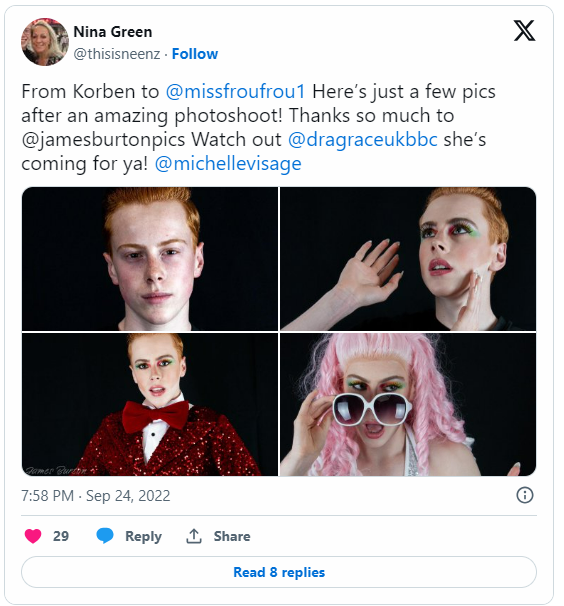 One writes, "I worry for my son, he would really love to do something like this at prom but he would definitely not have the support of all the students! So sad that we still have homophobia even now. Well done to you, your son and his school!"
A second shares, "I am so happy for your son he looked absolutely amazing!!!My son is trans, after 3yrs of transphobic bullying in Jan b4 GCSEs [General Certificate of Secondary Education offered in parts of the UK] I had to take him out of school for his mental health. He was always going to prom in a tux and he was deprived of the chance."
A third simply writes, "Absolutely stunning! My daughter wore a suit to hers!"
Meanwhile, the positivity was met a string of other comments, which serve as a reminder that not everyone is on the same social path.
One writes, "There is very little hope for civilization," and a second shares, "…Vile, Woke & a failure as a parent in encouraging this sort of thing. A 12 year old boy should be playing football and learning to be a man. But, sadly people now a days virtue signal, like what you're doing with this tweet, and ruin their kids for life. Shame."
Another netizen says the support for Green's post is troubling. "There is absolutely nothing natural about a 'boy' dressing like a 'girl'–the support shows just how screwed up our world is." And one cyber fan goes so far as to suggests the world is lacking logic, "We live in a world where children should no longer pretend to be Indians but men should pretend to be women. Utopian."
However, Green was a tenacious supporter who refused to give in to the internet vitriol. The day after the tweet that caused the internet to go crazy, Green went to London Pride with her kid and posted a cute picture of the two.
One cyber user commented, "My boy did too, couldn't be prouder, he's also at London Pride today aged 16 it's fabulous love and to you and yours," and a second shared, "you both look amazing xx"
A third attacks the mom, writing, "Your son doesn't look like a man anymore, some kind of fa****"
Green, who tweets that she ignores the criticism, expresses her hope that other kids and parents would be inspired by her friendship with Korben.
"I really hope it will help others be more accepting, let proud parents feel they are not alone, and that they can celebrate their children, and for young people to know there is a network there if they need it." She continued, "You need to accept your children for who they are."
Korben Green certainly is a brave young man for expressing himself the way he does! And he's very fortunate to have such a supportive mom, who shuts out the noise and continues parenting him in the best way she knows.
What do you think of teens attending prom in outfits that don't represent their genders assigned at birth?
Please share this story and let's see what others have to say!