Media
Couple has 3 sets of twins in less than 5 years, but that's not the craziest part of this story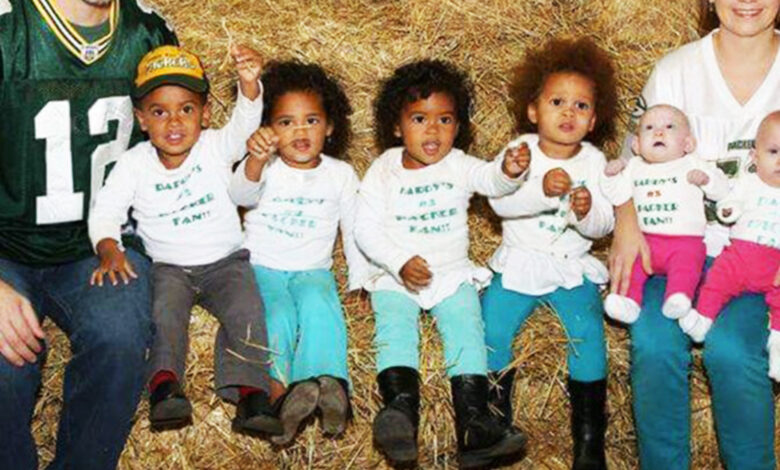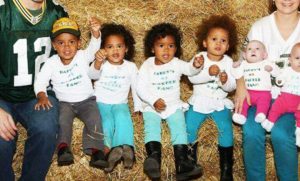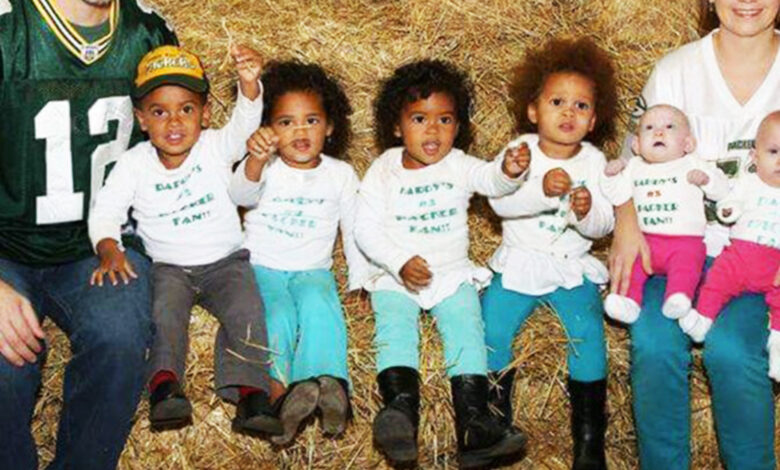 When an old family friend contacted Carrie and Craig Kosinski and asked them if they could take care of her young twins, they said "yes."
Carrie and Craig offered to take custody of the cute girls on a trial basis.
But then days became weeks, weeks became months, and soon, the girls were part of the family for good.
Having children had always been a dream for Carrie and Craig, but they had no idea what their journey would end up looking like.
On February 28, 2014, Adalynn and Kenna were born. The twins were delivered by emergency C-section and the Kosinkis got legal guardianship of the girls when they were 3 months old.
After a couple of years raising their adoptive twins, Carrie and Craig heard from their biological mom, who explained that she had another heartbreaking situation on her hands.
She had major problems in her life and was struggling to make everything work. She asked the couple if they would be willing to adopt her two younger children, two-year-old twins Cece and J.J.
The younger twins were Kenna and Adalynn's biological brother and sister.
Carrie and Craig, from Union Grove, Wisconsin, had to think long and hard about the right thing to do.
While going through the adoption process with Kenna and Adalynn, the couple had experienced multiple failed attempts at getting pregnant.
For a long time, they had no clue what was wrong and decided to see a doctor, who delivered some heartbreaking news.
The doctor told Carrie that she couldn't conceive naturally because she had severe endometriosis. So to have biological children was basically out of the question – that's why they turned to adoption in the first place.
"It was a difficult decision. We were trying to get pregnant ourselves. But they were siblings so that was definitely was part of our consideration — we wanted to keep the siblings together," Carrie told The Journal Times.
But Carrie and Craig left their personal concerns aside and told the mother that they would be happy to adopt the younger twins.
But just a few weeks after welcoming Cece and J.J. to the family, Carrie felt strange and realized she needed to go to the doctor.
In September of 2015, an ultrasound revealed that Carrie herself was pregnant. In fact, not one but two fetuses appeared on the screen! This would be she and Craig's third set of twins in five years!
"We were in shock, but super happy," Carrie Kosinski told Today.
Although they were overwhelmed at first, Craig and Carrie knew their pregnancy was a gift from a higher power. The parents decided to do everything they could so that all six children would grow up in a safe, loving environment.
But fate would soon play the family another visit, and their doctors could barely believe what happened.
Unbelievably, biological twins Karraline and Clarissa were born February 28th — the same date that the other two pairs of twins were born!
"We were very shocked. We were like 'oh my God we are going to have three sets of twins. What are we going to do with ourselves?'", Carrie recalled.
The fact that all of Carrie and Craig's children share the same birthday was a clear sign to the grateful parents that this was meant to happen.
Carrie tells, "God obviously has a sense of humor."
Carrie gave birth to Karraline and Clarissa via in vitro fertilization during week 25 of Carrie's pregnancy. Unfortunately, their biological twins had to spend months in neonatal intensive care. But when they finally were allowed to go home, Karraline and Clarissa were healthy and strong.
Obviously, it's costly to have three sets of twins under one roof, but many people in the surrounding community have offered financial help.
Via fundraising sites like GoFundMe and AdoptTogether, kind strangers from all over the country helped the family with money to meet their growing expenses and high costs.
"I have to be very organized and keep to a schedule, or things get out of hand," Carrie says.
The fact that all six children came into the world on the same day — Cece and J.J. were born on February 28, 2013; Adalynn and Kenna on February 28, 2014 and Karraline and Clarissa on February 28, 2016 — make Craig and Carrie feel like someone up there had a special plan for their family.
"We believe that because God adopted us into His family that we were meant to adopt these children into our family," Carrie said. "It's such a huge blessing to us. We love all our children the same. We wouldn't want our lives to be any different."
Today, this family is enjoying life, and to see all these beautiful kids grow up must be such a blessing for Carrie and Craig.
"They are all very different. Each has their very own personality, which is very fun, but we get pulled in six different directions," Carrie told Today.
A big thank you to Craig and Carrie for their big hearts. It's so wonderful that they're taking care of four children as if they were their own.
In some way, it feels like the couple received the reward they deserved because they also got to have their own biological children, as well.
Share if you were also moved by reading this. Together we can spread a little more warmth and positive news on Facebook.