Media
Eerie Photos Turkey's $200 Million Abandoned Ghost Town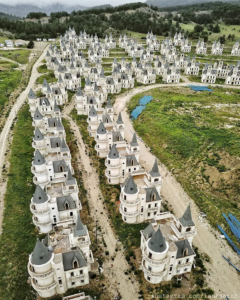 You'll have goosebumps after seeing this abandoned $200 million 'luxury hideaway.'
Hundreds of fictitious chateaux being erected for wealthy Gulf investors have recently received new tenants. Ghosts. The Burj Al Babas project in Turkey's northern Bolu province began in 2014, but its developer, the Sarot Group, has yet to raise the necessary funds to complete it.


The Sarot Group has received a court-ordered bankruptcy judgement for the $27 million debt owed by the Burj Al Babas. According to its website, the project was intended to have 732 chateau-style homes, swimming pools, Turkish baths, health and beauty centers, a shopping center, and a mosque. Even though clients from Qatar, Bahrain, Kuwait, the United Arab Emirates, and Saudi Arabia have purchased approximately 350 of the 587 villas built, it is insufficient.


"We couldn't obtain nearly 7.5 million dollars in receivables for the villas we sold to Gulf countries," Sarot Group Chairman Mehmet Emin Yerdelen told Hurriyet. "We filed for bankruptcy protection, but the judge denied it." We will file an appeal."