Media
Police are called on boy selling 'Ice Cold Beer' but his clever sign has them chuckling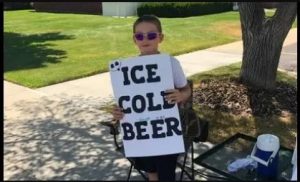 11-year-old Seth had neighbors calling the cops on him when they spotted his "Ice Cold Beer" sign. Really though, his idea was pretty genius.
There are some kids out there who seem destined for the business world. Even at young ages, they enjoy combining brilliant ideas with their hard work ethic, all so they can bring in a little cash.
A BOY IN UTAH HAS CREATED A BUZZ IN HIS NEIGHBORHOOD FOR BEING AN INGENIOUS ENTREPRENEUR.
11-year-old Seth built a stand near the side of the road. However, instead of lemonade, he sold another tasty beverage.
He stood at the roadside with a sign that said "Ice cold beer".
Because he was just a kid, a couple of his neighbors decided to call the police. The cops immediately went to the area to start an investigation.
Fortunately, when they arrived they found out that Seth wasn't selling actual "beer." Instead, his advertising had a hilarious and clever twist.
The boy wasn't selling alcohol at all. He wasn't breaking the law.
A closer look at the sign revealed that he was actually selling ROOT beer!
The boy didn't deceive anyone. In his sign, the word "root" was written in green. You wouldn't be able to see it without getting close.
Instead of getting mad at the boy for coming up with such an idea, the Brigham City Police Department considered it an excellent marketing strategy.
They were even amazed at how good his business went. Not a lot of kids would be able to pull that off!
One Facebook user said:
"THAT'S A KID THAT IS DESTINED TO BE A GREAT MARKETING EXPERT! HE KNEW HOW TO GET ATTENTION OF PEOPLE. SEEMS IT WORKED AND HE GOT POLICE PROTECTION AS WELL. . BET HE GOT LOTS OF BUSINESS AS WELL. "
Another one commented:
"HE'S SAVY, NEAT AND CLEAN! HARD WORKING AND THINKING ABOUT WHAT APPEALS TO THE PUBLIC…HE CAN GO ANYWHERE WITH THAT MINDSET! AND WITH THAT COMMUNITY OF GREAT POLICE OFFICERS SUPPORTING HIM, HE'S ALREADY GOT MENTORING!!! LOVE THIS "
There was this person who said that whoever called the cops on the boy should feel ashamed. To that, the Brigham City Police Department replied
"Our citizens should never feel ashamed or embarrassed to call us. They were just calling in what they felt was a suspicious circumstance. No harm, no foul."
The police officers were also given praises for supporting the kid.
They handled the situation really well. And after finding out that he wasn't doing anything wrong, some of them even bought bottles of root beer. Well, who could resist the boy's charm? Plus, each was only $1.
Seth may be young but he sure knows how to make his business shine.
While many children create lemonade stands and mow lawns for money – this young man showed everyone that thinking outside the box can make a big difference. It'll be interesting to see what other clever ideas he comes up with in the future!
You can check out the video below and SHARE if you are a fan!