Media
The Most Haunted House in Ireland Is Now Up for Sale — and It Comes With a Private Beach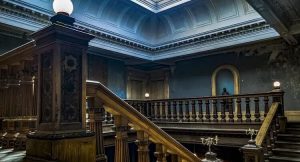 If you don't mind having some interesting neighbors, you may have the mansion of your dreams to yourself if you're willing to share it.
According to Time Out, Loftus Hall, which is widely regarded as one of the most haunted houses in all of Ireland, is now available for purchase. The current owners are asking for €2.5 million ($2.89 million USD) for the palatial property that is 27,000 square feet in size, in addition to the 63 acres of land that comes with it (including a private beach).


According to Time Out, the structure can be found close to the town of Wexford, and in addition to being a really old and magnificent property, it is also the source of many terrifying stories that have been passed down through the years. Shane and Aidan Quigley, the property's current owners, took it over in 2011 and refurbished it before putting it up for sale to the general public. However, in addition to the present proprietors, it also counts a number of well-known people among its "residents."
According to Time Out, the most often circulated story involves a "dark stranger" who approached the estate in the 18th century when it was owned by the Tottenham family. This event is said to have taken place at the property. The hall is said to be haunted by a young woman, most likely Lady Anne Tottenham, who passed away here after enduring the trauma of finding out that the visitor was not a human at all but rather a supernatural being with "cloven hooves." This event is believed to have led to her death. After that, the visitor vanished, leaving a hole in the roof behind him.
According to Time Out, the visitor, who is frequently referred to as "the devil," is also claimed to roam the halls of the building. Even though there is no evidence that Loftus Hall was haunted prior to it becoming a tourist attraction, it was the subject of a well-known documentary called The Legend of Loftus Hall, and it has been featured on numerous ghost-hunting travel series, such as Ghost Adventures. Fowl Manor, which appears in the Artemis Fowl book series, is rumored to have been modeled after this house.


The Georgian mansion is furnished with 22 rooms for you and your guests to explore, and there is even the possibility of coming into contact with a spectral visitor if you choose to make this property your dream home.
Those interested in purchasing the mansion can send an email to info@loftushall.ie to receive additional details about the transaction. Loftus Hall is also available for ghost tours and "paranormal lockdowns," however at this time masks are necessary due to coronavirus safety regulations.